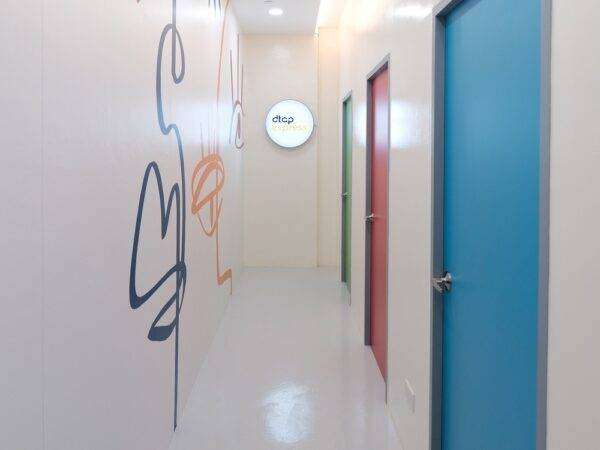 Self-testing at "doctor-less" city clinic in Singapore
Editor's brief: All too often, especially in the endemic era, there may be a need for someone to get a medical test done, whether it be an STI or HIV test, or tests for cholesteral, diabetes, liver and kidney function, thyroid condition, nutritional deficiencies, or even cancer markers for particular cancers. Now, there is a "doctor-less" clinic in the heart of Singapore, that offers anyone to book online or walk in, complete a simple questionnaire, and avail oneself to the assistance of a clinic assistant or phlebotomist. Read more below.
Singapore – DTAP Express is the first purpose-built clinic in Singapore where patients need not interact with a doctor in person. The doctor-less clinic offers an array of self-administered blood tests and swab investigations to determine general health conditions, sexual health conditions and cancer. Swabs are done by the patients on their own and blood can be withdrawn professionally by a phlebotomist stationed on site if necessary. If patients are unsure, they can pose their questions to one of the doctors in the DTAP group through tele consult on site. Results will be sent confidentially to the patient and interpreted remotely via tele consult by a doctor from the DTAP clinic group. The entire process is hassle-free, fast, affordable, private and confidential.
Why was it set up?
DTAP Express was first opened in August 2020 to provide HIV & STD self-testing in a discreet environment, without any physical presence of a doctor. The clinic was set up as an alternative channel for those who find it awkward to have a face-to-face initial consultation with a doctor yet needs a professional medical lab test. Early stages of HIV and some STD do not show obvious signs and symptoms, and need medical lab testing to conclusively determine an underlying infection. Prompt medical attention and early treatment can make a significant difference to a patient's life. Some sexually transmitted diseases, when detected early, can prevent complications such as infertility in the future and also prevent the spread to their partners. By providing a self-testing clinic, DTAP Express aims to provide a clinic where anyone who needs a medical lab test can do so without fearing any uneasiness.
Reasons for testing includes:
a couple in a new relationship
a couple planning on getting married and having children
a couple is deciding on not using condoms
one or both person in a relationship has more than multiple sexual partners
one has symptoms or reasons to suspect an STD infection or HIV
Building on the experience, DTAP Express expands its range of services in July 2021 to include general health blood test, nutritional and dietary health blood test and cancer market screening blood tests. It is important for diseases which may be silent in its early stages to be detected early, to allow for easy and more effective treatment. This new concept empowers patients to proactively take charge of their own health, have better control of their own conditions and have a better quality of life.
Anyone who is older than 18 years of age can approach DTAP Express for a self test to find out about their health conditions, and with the results, seek early treatment if necessary. These health conditions include:
Cholesterol, diabetes, liver function, kidney function, thyroid health screening
Nutritional deficiencies in Vitamin D, Folic acid, B12, Iron, Calcium and Albumin
Cancer markers in colon, prostate, ovaries, liver, pancreas, nose and throat
How does it work?
Self-testing at DTAP Express begins with either booking an appointment online at  https://dtapexpress.clinic/landing-page/ or walking in to the clinic located in the heart of the Central Business District at 12 Gopeng Street #01-70, Icon Village, Singapore 078877, within a short walk from Tanjong Pagar MRT station. Opening hours are 10 am to & 7 pm (Mon to Thurs), 11 am to 7 pm (Fri) and 10 am to 3 pm (Sat & Sun)
Upon arrival, patients answer a simple self assessment / questionnaire to determine which test is required. A friendly Care Associate is on site to assist with the registration. After collecting the suitable kit and making payment, patients collect their samples either at a designated self testing room or toilet. A phlebotomist is stationed on site to help with blood withdrawal if necessary. Once completed, patients drop their samples with the receptionist and leave.
DTAP Express understands patient confidentiality and thus results will be sent via a password protected file confidentially via email or WhatsApp in 72 hours (5 to 7 working days for full tests).
Medical Disclaimer
The information on this site is not intended or implied to be a substitute for professional medical advice, diagnosis or treatment. All content, including text, graphics, images and information, contained on or available through this web site is for general information purposes only. The site makes no representation and assumes no responsibility for the accuracy of information contained on or available through this web site, and such information is subject to change without notice. You are encouraged to confirm any information obtained from or through this web site with other sources, and review all information regarding any medical condition or treatment with your physician. NEVER DISREGARD PROFESSIONAL MEDICAL ADVICE OR DELAY SEEKING MEDICAL TREATMENT BECAUSE OF SOMETHING YOU HAVE READ ON OR ACCESSED THROUGH THIS WEB SITE. The site does not recommend, endorse or make any representation about the efficacy, appropriateness or suitability of any specific tests, products, procedures, treatments, services, opinions, health care providers or other information that may be contained on or available through this web site. THE SITE IS NOT RESPONSIBLE NOR LIABLE FOR ANY ADVICE, COURSE OF TREATMENT, DIAGNOSIS OR ANY OTHER INFORMATION, SERVICES OR PRODUCTS THAT YOU OBTAIN THROUGH THIS WEB SITE.
###