A collaboration between iconic Japan's Zepp Hall Network and Big Box Singapore
Affordable venue to stage live music performance for bands and musicians
Reasonable ticket prices for music lovers to enjoy live music any day of the week
Platform for J-pop revival in Singapore
Singapore, @mcgallen #microwireinfo, June 9, 2017 – Local company, BigBox Investments Pte Ltd, collaborates with iconic Japanese Zepp Hall Network Inc., a division of Sony Music Entertainment (Japan), to set up Zepp@BIGBOX in Singapore, the first Zepp concert hall outside of Japan.
RADWIMPS, a highly popular Japanese rock band, performed the grand opening act for Zepp@BIGBOX Singapore in a sold-out concert, also kick-starting their Asian tour on 4th June 2017.
The Zepp@BIGBOX official launch was held on 5th June 2017 at Big Box Singapore. An estimated 250 guests, including media, organizers, and partners, graced the official launch of the new venue. Guests were serenaded by local band, The Marisol, and welcomed by the Zepp@BIGBOX management team. All guests were also given exclusive backstage access during the launch.
"This collaboration presents a unique opportunity for the local music scene. Emerging bands and musicians have a new and affordable venue to perform and further pursue their dreams. Currently, many event spaces in Singapore are designed for an optimum use of less than 1,000 or more than 5,000 persons. Zepp@BIGBOX is a hall that fills the gap in between, and comes pre-equipped making it an important stepping stone for musicians establishing themselves as professionals," said Mr. Teo Wee Kiang, executive vice president, Zepp @ Big Box Pte Ltd during the welcome address at the launch. He added,"The mid-sized venue also means that every concert goer gets a pit ticket, right in front of the stage where the action is. This ultimate concert experience comes at a reasonable price as savings from a lower cost venue is passed through to the consumers in the form of affordable tickets. These factors are catalysts for more local artists embarking on international success and more foreign artists making Singapore their next concert destination, enhancing Singapore as a go-to music and tourist hub."

"The beauty of Zepp Halls is in its convenience. All Zepp concert halls are pre-equipped and standardized with quality equipment across Japan and now, Asia," Mr. Satoshi Senoo, president, Zepp Hall Network, said. "Event promoters prefer Zepp venues for the high quality systems and cost savings, giving Zepp@BIGBOX an advantage over other venues in Singapore, especially for touring J-pop bands."

Mr. Shinichiro Honda, Hall Director, Zepp @ Big Box Pte Ltd said, "Zepp concert halls are a successful phenomenon throughout Japan and by building the Zepp infrastructure in Singapore, we want to spread the passionate energy of Zepp, build a cultural bridge for music lovers across Asia, launch initiatives and create a platform for local musicians to scale greater heights."

Mr Sng Sze Hiang, Managing Director at Zepp @ Big Box Pte Ltd added, "BigBox is centrally located and accessible via public transport. By setting up a Zepp concert hall in Big box, the complex offers a complete entertainment hub currently missing in the Western side of Singapore."
PHOTOS: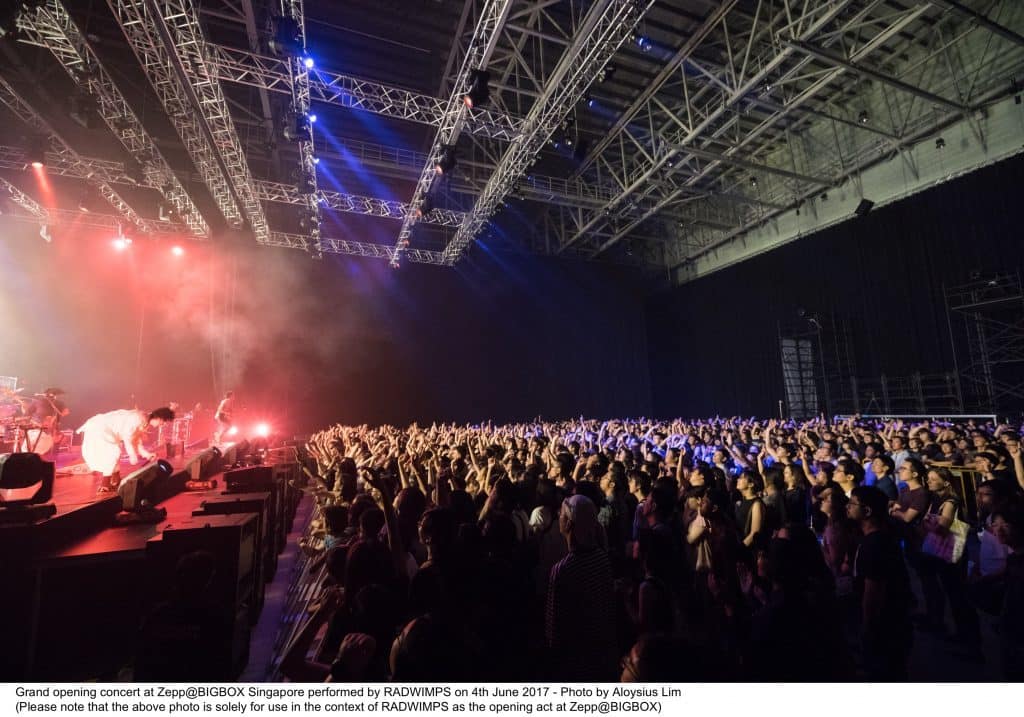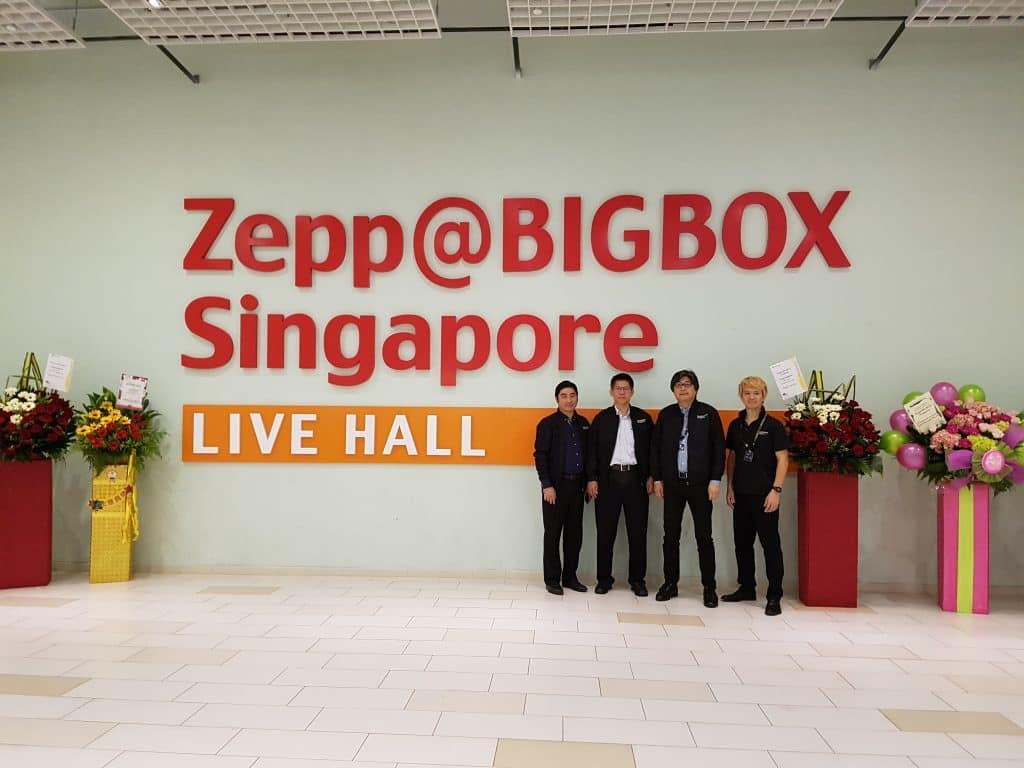 About Big Box Investment Pte. Ltd (Singapore)
Big Box Investment Private Limited is a wholly owned subsidiary of SGX-listed company TT International Limited, and manages the Big Box mega warehouse retail mall in Jurong East. The 8-storey architecture spanning approximately 1.3 million square feet in gross floor area features a hypermart, food and beverage establishments, retail outlets, and the Zepp@BIG BOX live concert hall in conjunction with Zepp Hall Network from Japan. For more information, please visit www.bigbox.com.sg and Facebook.
About Zepp Hall Network Inc.
Zepp Hall Network Inc. headquartered in Tokyo, Japan has been a venue operator since 1997. It currently manages six "Zepp" concert halls that are located in the cities of Sapporo, Nagoya, and two each in the cities of Tokyo and Osaka with new ones opening in the cities of Fukuoka and Yokohama in Japan, and in New Taipei City, Taiwan and Kuala Lumpur, Malaysia all in or by year 2020. For more information, please visit www.zepp.co.jp.
###