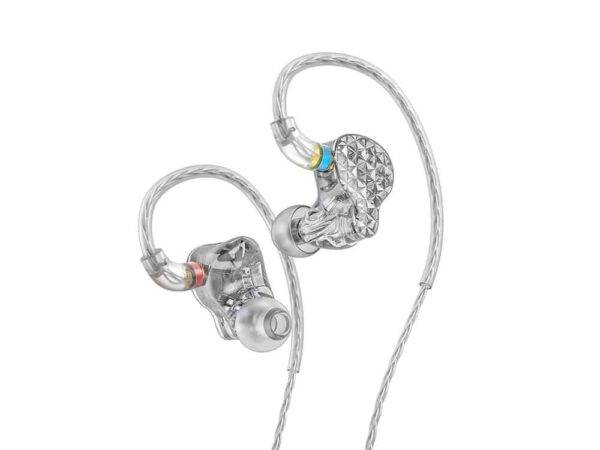 Exquisite FiiO FA9 IEM with 6 Knowles Balanced Armature drivers
Editor's brief: If you are into in-ear monitors (IEMs), whether you are a professional musician with stage gigs, or an amateur or budding musician running around town, or even just a music enthusiast who appreciates the clean sound from an IEM, FiiO has your number. The latest FA9 features 6 Knowles Balanced Armature drivers, encased by a glittering shell that resembles more jewelry than technology. Read more below.
SINGAPORE – FiiO Electronics Technology Co. Ltd. (FiiO) unveils its latest in-ear monitor, FA9, in Singapore today. Fitted with the latest technology, the FA9 guarantees a balanced and clean audio, expertly designed with 6 Knowles BA drivers per ear. Its seamless diamond-cut translucent shell shimmers from all angles – designed to impress.
Your audio fantasy 
FiiO's newest FA9 is in-built with 6 Knowles BA drivers per ear, a perfectly sculpted 4-way crossover, covering the entire audible frequency range to meet all audio needs. This specially curated design is made to achieve dynamic bass, crystal clear and extremely detailed sound quality – making it worth your every dollar. At high/ultra-high frequencies, its SWFK-31376 driver blends extreme resolution with rich sound while at mid-frequencies, the collaborative design of EJ-33877 custom driver by FiiO and Knowles, ensures impressive mids that give lush vocals.
For the first time ever, FiiO has integrated the Knowles EJ balanced armature drivers into FA9, typically utilised only in high-end in-ear monitors (IEMs). Even at lower frequencies, a dynamic and authoritative bass can still be achieved with its HODVTEC – 31618 driver with 2 woofers incorporated into its design. These highly curated technology promises to create and immerse you in your audio fantasy, with more realistic sounds than ever.
Additionally, the new FiiO FA9 comes with a 80.6mm ultra-long sound tube, abolishing unnecessary extra mids and highs from the drivers, delivering a seamless and smooth frequency response. This sound tube provides a distortion-free audio, ensuring the multiple drivers do not interfere with each other. It also ensures a smooth and clean mid-bass sound, further amplifying the bass texture.
Be your own DJ 
With 8 possible sound profiles to choose from, made possible by FA9's crossover technology, you can be your own DJ! Choose the desired sound experience to satisfy your listening style. Switch 1 alters the impedance, switch 2 is a treble boost while switch 3 adjusts the bass. Toggle the sound adjustment switches to achieve your own sound signature, regardless if you like a cleaner and more natural sound, or seek the highs, the boomy bass, and rock music!
A design complementary to its exquisite sound quality 
A step ahead of the rest – FA9's entire shell is created through the newest, 4th generation, DLP 3D printing technology. With an improved printing accuracy, efficiency and curing uniformity, the new earbuds are built with a precise and robust structure, focused on optimising audio quality.
Besides its exquisite sound quality, its all-new diamond-cut faceplate does not disappoint. Its shimmering effect at all angles integrates perfectly with the seamless translucent-black resin shell – making it not just pleasing to the ears, but also the eyes. The scientifically-designed ergonomics ensure that the FA9 IEM creates a comfortable, fuss-free and enjoyable listening experience for all. It utilises an EU IIA medically certified, German high-transparency skin-friendly resin material, that is resistant to discoloration – enabling a pleasant fit and user experience even after long hours.
Other features include: 
Light in weight but heavy in tone – Weighing only 6.2g per ear unit, the skin-friendly resin material that is employed by FA9, promises an enjoyable and comfortable listening experience.
Protect its exterior, safeguard its interior – Made of faux leather, the self-closing case ensures full protection of the in-ear monitor, with a mesh storage area as well as an inner lining protection.
8 strands of pure audio goodness – The 8-strand monocrystalline silver-plated copper cables included in the box supports excellent sound quality so you don't have to worry about upgrading to a better cable.
Technical Specifications
Headphone type: Over-the-ear
Frequency response: 5Hz-40kHz
Drivers: SWFK (higher frequencies), EJ-33877 (mid frequencies), HODVTEC-31638 (lower frequencies)
Impedance: 16~32Ω
Sensitivity: 110-113dB/mW
Max input power: 100mW
Cable connectors: 3.5mm headphone jack, expanded MMCX connectors
Cable length: 120cm
Unit weight: 6.2g
Pricing and Availability
FiiO FA9 is available at S$799 in Black and Clear, and can be found at the following authorised retailers: AV One, E1 Personal Audio, FiiO LazMall (www.lazada.sg/shop/fiio), Headphones.sg, Jaben, Stereo Electronics and Treoo.com.
###