Singapore, @mcgallen #microwireinfo, June 25, 2019 – HIMA, the world's leading specialist in automated safety solutions, advises industry leaders in Malaysia to adopt smart safety industrial solutions to boost safety, cyber security and profitability of plants and factories in today's digitalised era.

HIMA has been involved in providing smart safety solutions including functional safety for emergency shutdowns, fire and gas systems for conglomerates like Malaysia LNG and BASF-Petronas Chemical.
Unplanned downtime can cost companies millions every year. According to a Kimberlite market research study, just 3.65 days of unplanned downtime a year can cost organizations US$5.037 million. An average offshore oil and gas company experiences 27 days of unplanned downtime a year, which can amount to US$38 million in losses. In some cases, this figure can go up as high as US$88 million.
"In the era of Industry 4.0, everything is interconnected. The more complex industrial plants become, the more rigorous the requirements that are imposed on functional safety. Therefore, safety systems must be just as smart as the production processes of the future," said Friedhelm Best, Vice President, Asia Pacific, HIMA. "Digitization creates entirely new requirements for plant operators in the industrial sectors. They need solutions that not only protect plants and employees in the event of a disaster, but also effectively counter cyber-attacks and boost the long-term profitability of plants."
He added that HIMA's smart safety solutions for industrial applications are currently used in various industries particularly in oil and gas, chemicals, energy and rail.
HIMA's latest Industrial safety technology is being showcased at the 20th Asian Oil & Gas Conference (AOGC), from 23 to 25 June 2019, at Kuala Lumpur Convention Centre in Malaysia. The conference is graced by HE Tun Dr Mahathir Mohamad, Prime Minister of Malaysia and hosted by Petronas.
Around the world, the functional safety of turbines and compressors is becoming a focal point of industry. A small accident can have catastrophic consequences, endanger human lives, and incur high costs from losses and lawsuits.
A turbomachinery (TMC) such as turbines are often found in oil and gas plants, as well as many other critical infrastructures. They are typically controlled by many disparate components by diverse manufacturers integrated into a complex structure. As such, turbomachineries can often incur expensive engineering costs, take up massive spaces, house complex wiring, use different and sometimes non-interoperable communication standards, resulting in fragile implementations that are prone to faults and challenges in troubleshooting. The International Electrotechnical Commission has introduced stricter safety standards, which can now be met with a single system for safety and critical control. FlexSILon TMC ensures all turbomachinery runs safely.
The HIMA FlexSILon TMC with HiMax is an integrated solution that provides safe and cost-effective turbomachinery operation. The system combines all individual components and include overspeed protection, into a singular system that possesses high functional safety and flexibility. The system provides simulation and machine monitoring of all turbomachinery, and manage functions such as turbine operation and control, turbine protection (such as overspeed prevention and mitigation), compressor operation and control, compressor protection, emergency shutdown (ESD), and human-machine interface (HMI). As a result, the HIMA FlexiSILon solution creates a much safer turbomachinery plant with much lower operating costs and higher financial returns, especially critical in today's oil and gas plants.
FlexSILon TMC monitors, regulates and controls turbomachinery centrally, enabling companies to save more than US$500,000 per year, compared to using individual systems, while reducing failure rate and overall operating expenses, and gaining higher productivity.
"We look forward to continue to nurture and grow with all our valued Malaysian and Asian oil and gas customers to ensure superior industrial and automated safety, in the spirit of protecting people, businesses, and the environment," said Best.
Automated Safety for key installations in Malaysia
HIMA has a presence in Malaysia since the early 1990s, and today HIMA Malaysia is a wholly-owned subsidiary of the HIMA group with the support of an extensive global network of experienced team of TÜV-certified engineers and professionals.
HIMA's smart safety solutions fulfill all requirements for SIL 3 and SIL 4, thereby satisfying even the most demanding industries such as oil and gas. With a local presence in Malaysia, HIMA is poised to tailor its automated safety solutions to exacting needs of its customers to prevent and mitigate specific safety challenges.
For more information on HIMA's turbomachinery solutions, visit https://www.hima.com/en/industries-solutions/turbomachinery-tmc.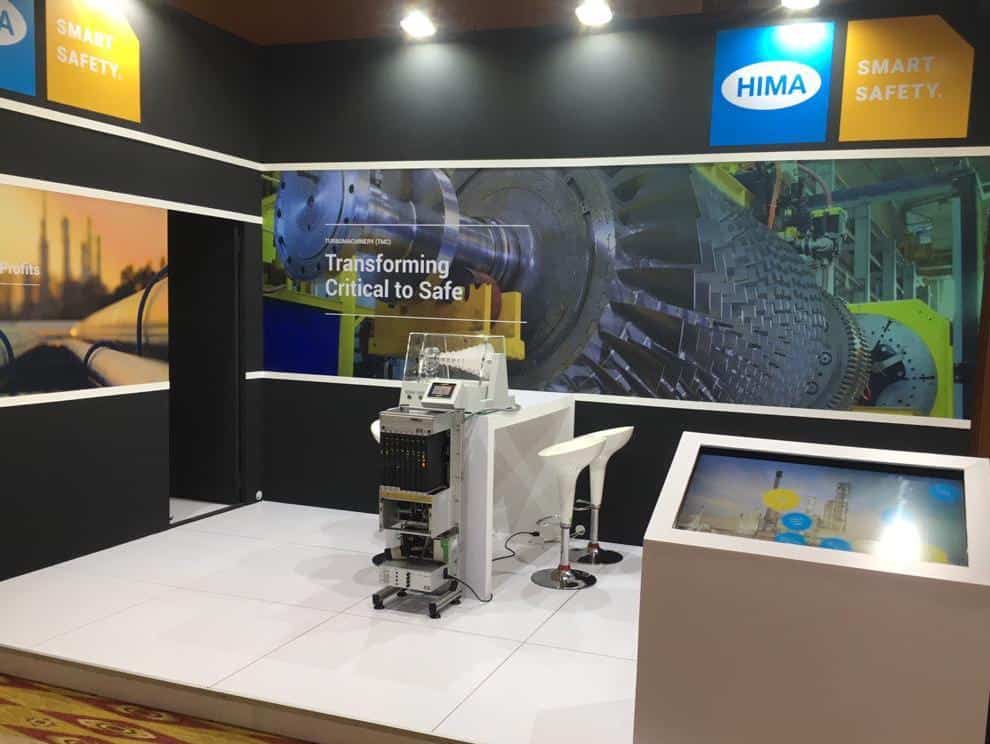 About HIMA
The HIMA Group is the world's leading independent provider of smart safety solutions for industrial applications. With more than 35,000 installed TÜV-certified safety systems worldwide, HIMA qualifies as the technology leader in this sector. Its expert engineers develop customized solutions that help increase safety, cyber security and profitability of plants and factories in the digital age. For over 45 years, HIMA has been a trusted partner to the world's largest oil, gas, chemical, and energy-producing companies. These rely on HIMA solutions, services and consultancy for uninterrupted plant operation and protection of assets, people and the environment. HIMA's offering includes smart safety solutions that help increase safety and uptime by turning data into business-relevant information. HIMA also provides comprehensive solutions for the efficient control and monitoring of turbomachinery (TMC), burners and boilers (BMC) and pipelines (PMC). In the global rail industry, HIMA's CENELEC-certified SIL4 COTS safety controllers are leading the way to increased safety, security and profitability. Founded in 1908, the family-owned company operates from over 50 locations worldwide with its headquarters in Bruehl, Germany. With a workforce of approximately 800 employees, HIMA generated a turnover of approximately €123 million in 2017. For more information, please visit: https://www.hima.com.
###