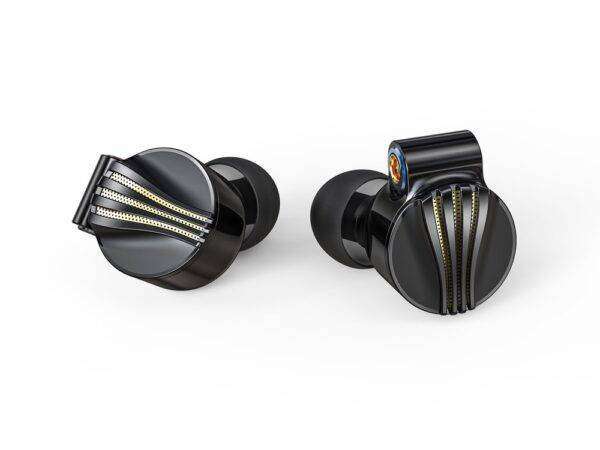 Add a pure beryllium diaphragm dynamic driver semi-open acoustic design to your ears with FiiO FD7
Editor's brief: What's Be and 4 at the same time? That's right, that's the metal Beryllium, atomic number 4 on the atomic table. It is found in the FiiO FD7 IEM (in-ear monitor), with great semi-open acoustic design, 12mm pure Beryllium diaphragm dynamic driver, with 3 pairs of interchangeable sound tubes to give you the audio bias you desire. Unlike some IEMs that have plated Beryllium, the FiiO FD7 has pure beryllium, made for aficionados. Read more below.
SINGAPORE — FiiO, the market leader in lossless audio players, has just announced the availability of their new FiiO FD7 in Singapore. The new in-ear monitor (IEM) has an exclusive color scheme and innovative features like a pure Beryllium Diaphragm Dynamic Driver and front acoustic prism. The FD7 is the newest member of the FiiO FD family as well as the company's flagship model, replacing the popular FD5.
Hear its thunderous roar
The new top-of-the-line model uses a 12mm dynamic driver with a pure beryllium diaphragm. With a weight that is one-fourth that of titanium and a rigidity that is four times that of steel, beryllium offers three times the transient performance of titanium motors. Because of this, the FD7 can quickly and powerfully produce high-quality audio with exceptional depth and punch.
Tech carried over from the well-loved FD5
Also, previous FD models' technological capacities have been incorporated into the FD7. The FD7 uses an acoustic prism system near the pure beryllium driver to reduce interwave delay. This is made possible by the FD7's front acoustic prism, which modifies and regulates the path that sound takes inside the device, improving the quality of high-frequency waves and preserving proper audio phase.
FiiO's inventive volcanic field system is another piece of tech that has been carried over from the acclaimed FD5. The sound quality of the volcanic field system has been significantly enhanced by exploiting the properties of sound waves. The FD7's bass waves are better dispersed thanks to the volcanic field's attenuation of standing waves and distortion.
Additionally, the FD7 has a medical-grade TPU sheathed, high-purity monocrystalline pure silver cable (a 4-wire braid with 224 individual strands). The TPU jacket protects the cable from aging effects like yellowing and temperature-related hardening that can occur when the cable is used in colder climates. Three different sized audio plugs (2.5mm, 3.5mm, and 4.4mm) with twist-locks give you the flexibility to use the cable with a wide range of devices.
3 interchangeable sound tubes for your music preference
Being the flagship model that it is, the FD7 also includes three sets of interchangeable sound tubes, each with a different inner diameter for a unique sound. The red tube accentuates low frequencies, the black tube provides a clear presentation of high ones, and the green tube, when used with bi-flange or triple-flange ear tips, allows for a more profound insertion into the ear canal, resulting in a more immersive experience with rich ultra-high audio details. The earbuds already have the black tubes in them. There are additional tubes in this set.
Achieve maximum wearing comfort
The FD7 is meticulously designed with the user's convenience in mind, and it's not just packed with advanced audio features. The FD7's cable, constructed with expanded stainless steel MMCX connectors, underwent extensive ergonomic development to ensure the highest level of wearer comfort.
The FiiO FD7's semi-open design also helps reduce stress on the ears, making listening a more pleasurable experience for longer periods of time.
Master of the arts, FD7 exclusive colour scheme 
The FiiO FD7 is the only model available in that unique black and gold color scheme. Its color scheme, reminiscent of ancient Chinese landscape paintings with a gold river and black mountains created with bold ink brushstrokes, is suggestive of its sweeping aural power.
Technical Specifications
Driver: 12mm large dynamic driver
Frequency response: 10Hz-40kHz
Impedance: 50Ω@1kHz
Sensitivity: 111dB@1mW
Max input power: 100mW
Cable: 120cm quality cable
Weight(single unit): approx. 11.0g
Pricing and Availability
FiiO FD7 retails for S$949.00 (including GST) and is available immediately at AV One (av1group.com.sg), Headphones.SG, Stereo Electronics and Treoo.
###